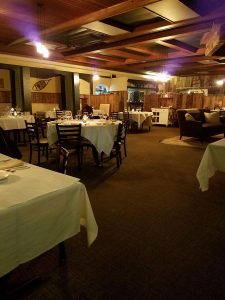 As many of you face the same struggle I do, which is how can you eat organic other than your home?  I always find myself in the predicament of cooking when I get home, or hoping I prepped a meal, or REALLY lucky if the husband whipped something up…BUT…y'all know in reality sometimes you just want to eat out! Let someone else cook and clean for you! Whew, makes life easier.
On this journey of my coming blogs, I will explore the unknown (haha, literally unknown) of restaurants and places we (granola as I call myself lol) can actually dine!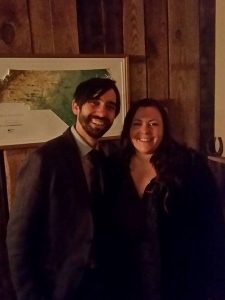 I want to start with one of my personal favorites, a hidden gem restaurant: Heirloom. Although I would like to take the credit of finding this all on my own, my husband actually surprised me last year for my birthday because he knows I'm so picky about where my food comes from. I can tell you this place does not disappoint!
This past visit I went back to do a full 6-course tasting menu for y'all to embark on this yummy dinner with me (and another good excuse to eat there again). Let's start with a little back-story, which is what makes this place so much more than just a restaurant.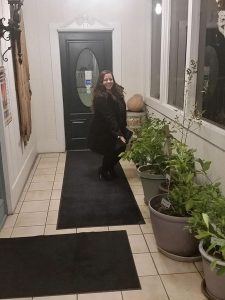 Chef Clark opened his restaurant in 2014 and since then it's been full of character and warmth. All the wood inside is from a local dairy farm in Albemarle, NC that was collected by his own family; seven generations of décor from mixing bowls to sentiments in the bar of black and white photos and his grandma's pearls. You can't help but feel immediately invited in and nestled somewhere cozy to dine. Each corner of this hidden gem has a part of history and tells a story in which Chef Clark is more than happy to share.
Now, before I begin by showing you mouth-watering meals, let me start by saying every single food item and beverage is locally sourced ("gasp" that is so rare) if it can't be locally sourced they will hand make it or wait until it's in season. Not only is everything locally sourced but Chef Clark also has honeybee hives on top of the restaurant to supply his own honey! Okay guys, that super impressed me! You will even see in the photos below where he has tons of planters growing fresh herbs to use in his meals.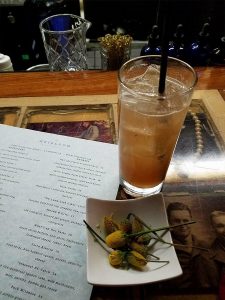 As every meal should begin, I start with a tasty drink called the toothache. The local flower called "lemon drop' which they use can create a slight numbing effect.  This flower can also be made into a tea, which is especially great if you're feeling under the weather.
---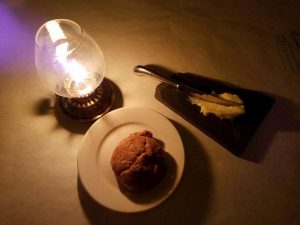 The perfect whole wheat biscuit with fresh butter.
---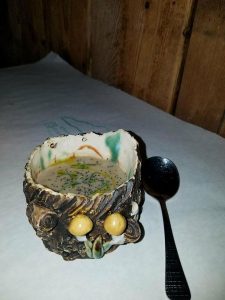 1st Course…mushroom soup (Chef Clark foraged the mushrooms himself)!
---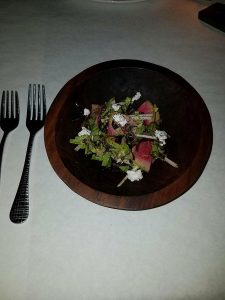 2nd Course…a crisp salad with ricotta cheese.
---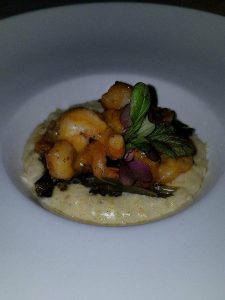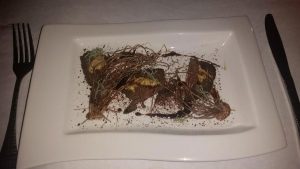 3rd Course…shrimp and grits & rabbit liver.
---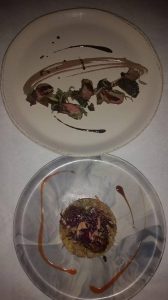 4th Course…tender duck (my favorite dish of the entire night & below it yummy fried chicken).
---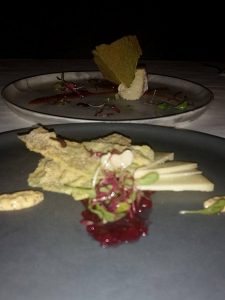 5th Course….a cheese platter.
---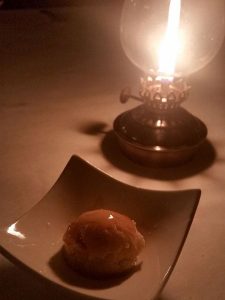 Palate Cleanser…a tart orange sorbet with sourced honey from their own beehives.
---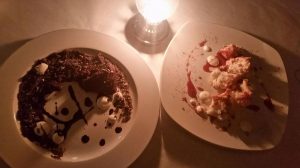 6th Course…a dessert of chocolate cheesecake explosion and shortcake made with champs and a strawberry compote.
---
From start to finish, the ambiance, food & service was absolutely amazing and inviting. I love knowing where my food comes from and knowing that it's local makes it extra special. I continue to say if we don't support our locally sourced restaurant there will be no more.
If you feel like cooking your own the best part is you can buy any of the produce or poultry from Heirloom at their cost! This in turns helps the local farmers out too. I really love the idea of everyone helping everyone!
You can check out their website for information Here