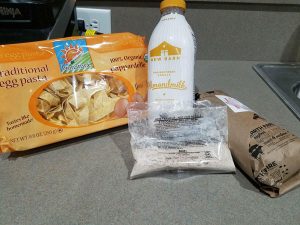 As this weather bears down on us and the nights become increasingly colder, I can't help but be in the mood to cook something hearty and warm (yes, I can be a little melodramatic about the weather, but hey, I'm a Floridian, what do you expect)?
As I now found Wildtree I find it easier and easier to cook. As this continues to happen I will continue to share my love of cooking; Wildtree, healthy eats, and lets not forgot the important one, EASE! 🙂
Tonight, I wanted to choose a recipe for those who don't have Instapot yet that things can be simply made on the stove in one pot. That is why I choose stroganoff! The great part is you can choose your protein. What can I say; I love meat, so when shopping I always get grass fed. It truly is important to know that they were treated properly and not filled with antibiotics.
Another awesome choice you have when making this is the milk. After watching "What the Health" on Netflix I am trying to cut out dairy in as many places where I won't notice as possible. Don't get me wrong, I LOVE a good drink and cheese but that's why I started with swapping my milk out first. 😉 For this recipe, it calls for milk and I replaced it with almond milk. Previously I have used coconut milk, and in both instances, you couldn't tell.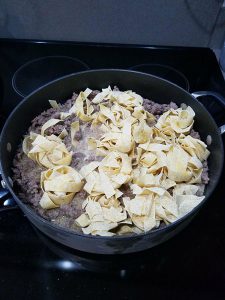 When it comes to milk, whether it is almond milk, coconut milk, regular milk or even grass-fed milk, please make sure you READ THE LABEL. Every time I let my guard down and say "Oh, its organic" I get home and am sadly disappointed with the ingredients.

 
The one ingredient that seems to find its way on a lot of dairy items is carrageenan.

  

You can see below in the picture of my almond milk, it clearly states it on the bottle.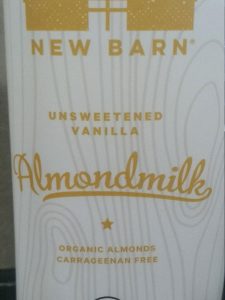 Below is the recipe for this awesome skillet meal! There's NO prep work and literally, from start to finish, it takes 15 minutes! Bon Appetit y'all!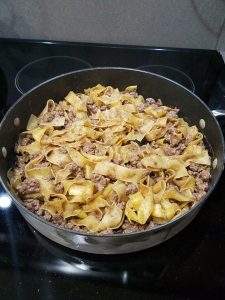 1 bag Stroganoff Skillet Meal
Heat a 12-inch nonstick skillet over medium heat. Add the ground beef and cook until fully browned; drain.

Stir in water, milk, and the Stroganoff Skillet Meal and mix thoroughly. Stir in noodles and bring to a boil, stirring occasionally.

Once sauce is boiling, reduce heat to low, cover, and simmer 9-11 minutes or until pasta is tender.

Remove from heat and uncover. Let rest for 2-3 minutes; the sauce will thicken as it cools.